Commission Uncovered – 'The Way Home'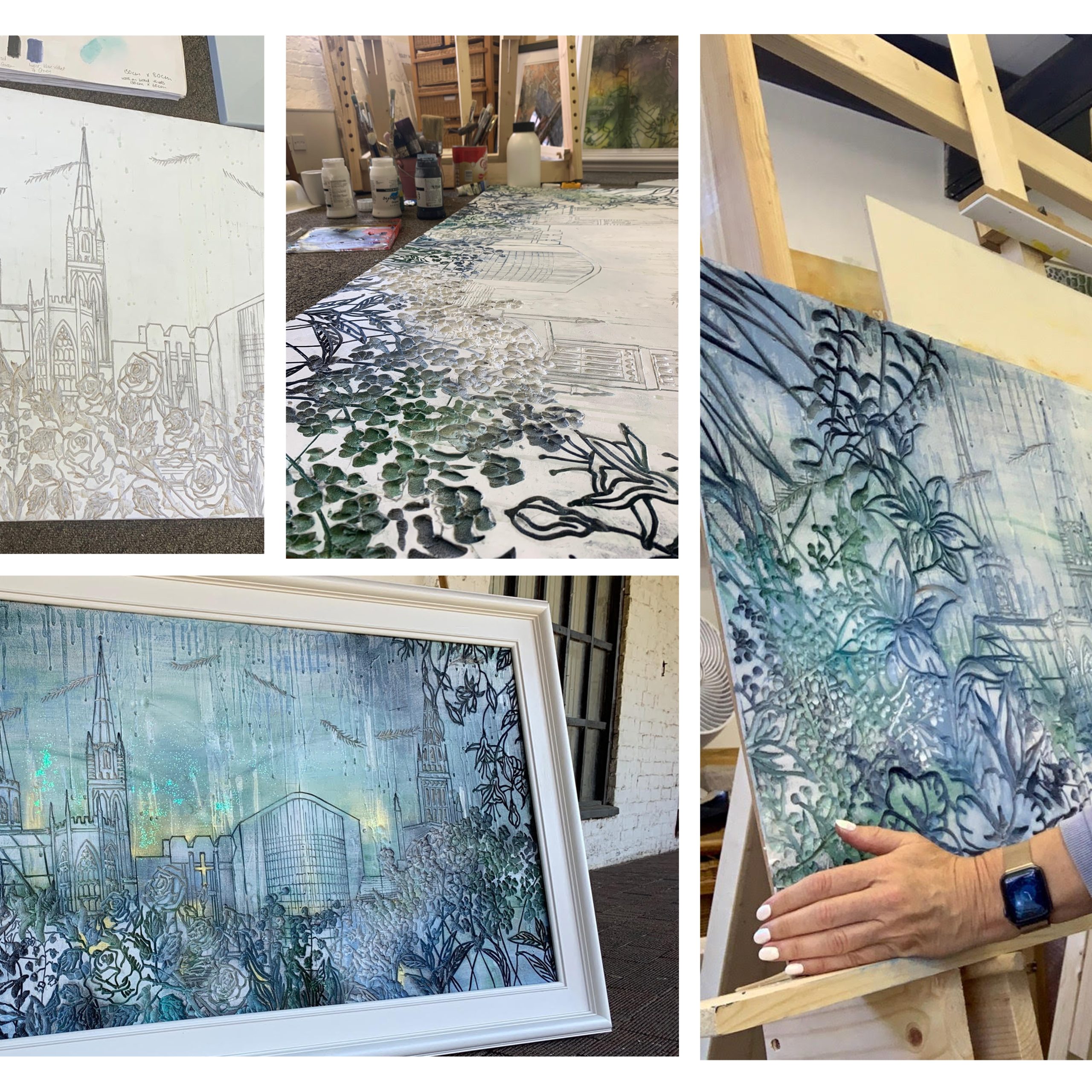 'The Way Home' is a commissioned piece which I completed recently as a commemoration for a 40th wedding anniversary. Vivid, frosty tones are layered upon images which represent the joining of a family from across the world, forming a painting which stands for strength, love, loyalty, and family.
I was approached to conceive the piece in February 2021, and began the journey with the client, starting with discussions over a brew to work out where we could take the work. Joint heritage was of huge importance to this family, and was a central focus. Specific flowers which pull on the family's history and experiences were also identified. Having collected the information needed, I then started work.
A great deal of trust is required when it comes to creating the work. As much as the client is usually the main driving force behind the conception and the realisation of the work, I need space in order to let the ideas grow and work flourish.
Maintaining the balance between communication and distance is not always easy, but it will benefit the work massively if worked on. Creating 'The Way Home' was an emotional journey but through this process emerged a powerful story.
If you look closely you can see hibiscuses, roses, wild lilies, forget-me-nots, fuchsias and lily of the valley, all of which hold significance and meaning to the family. The feather flitters across the piece, being a gentle reminder of those who have crossed space and time. We also see the dense forests of Malaysia and the hills of Northumbria set against the family's loyal connection to Coventry.
The work encapsulates the relationship not only between two people, but between the home and the heart, allowing reflection on identity and how humans join together. The client said the following about the work: 'it's just incredible!! Thank you for telling such a beautiful story so beautifully for mum and dad. Dad loves it! And they had the best day, they couldn't stop looking at it! We are all amazed by it and it has a very special home at CG for years to come.'
This was a lovely piece to work on and I thank this family for trusting me both with their story and how I chose to represent it.