Catching-up and Reflecting with Lesley
It's a brilliant time for Coventry. The city is blooming, the summer seems to be brighter, and the excitement emanating from the city of culture is palpable. Sitting down in Lesley's garden, the natural world appears as a fair influence, with vast varieties of flowers and plants adorning the well-kept lawn. Lesley's dog Bertie waits patiently for dinner. With coffee and biscuits set on the table, an open-air gig held at the local memorial park provides a background hum to our conversation.
What's your p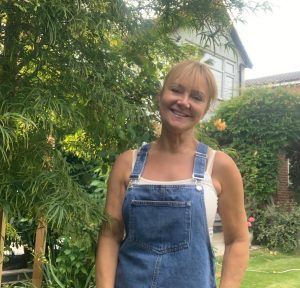 roudest moment?
I remember when I was in primary school I did an oil painting and my teacher entered it into the Cadbury's Art competition, and it got 'Highly Commended' Funnily enough it was displayed at the Herbert in Coventry, so we travelled over to see it. I was chuffed to bits. Also, when I started to produce work for sale, people started to buy, people I didn't know, and that's always a huge compliment. Growing as a professional, a huge moment was also when I got substantial funding from Arts Council to work with a Mathematician. Other professional moments like being awarded a bursary from University of Birmingham Botanic Garden was another proud achievement. And there was an exhibition at Harlow Carr in Harrogate a few years ago where 17 out of the 19 pieces sold! I also must mention my two children, Elisha and Alistair. I'm very proud of the way they've grown up into hard-working, kind adults (who appreciate art and culture!)
How does Coventry influence and inform your work?
Coventry has been a very good city to me. When I first started out as an artist, there was so much on offer in terms of support from the city. I got mentoring, grants, and a lot of help from the city. That was majorly influential in helping me. The rich cultural tapestry of the city is a huge influence and inspiration too – it's a gutsy city with a soul, but small enough not to get lost in.
Can you take us through your creative process?
It can be quite difficult at times! A lot of exploration goes on first, involving interrogation and questioning (getting your teeth into it!). If it's a commission, I've got to understand the person first and their drivers and values – it can get messy as sometimes you can get lost in the depth. I've learnt though that if you're starting to struggle, you've got to have faith and understand that the chaotic stage is in fact part of the process. The ideas need to propagate, to fester, to stew. When the times come when I'm ready to paint, I've already got a good plan together – but there's always room for improvisation.
Why does the natural world hold your interest?
Interesting question! As a child, I spent a lot of time with my dad in the garden, with vegetables and the tonnes of blackcurrants that my nan grew. As we didn't have computer games or much in the way of television, it was up to you to make your own world out there…..playing out till all hours, watching bees, pressing flowers, and looking with awe at the wonders of the natural world. There was lots of love in our house but not much in the way of material possessions and 1970s Birmingham definitely had its depressing/dark side at the time, so we would spent a lot of time at places dotted around Birmingham like the local parks, Licky Hills, Henley in Arden, Malvern Hills, and Earlswood Lakes.
The city of culture has some exciting stuff coming up, what are your plans for the future?
I'm at the stage now when I'm really getting back into my work. A lot of factors, like the pandemic, and my husband passing away a few years ago, have really affected my output, but I'm learning to value spending time on my own with my art again now. It's a great feeling to be in line with my passion and drive again.
I'm looking forward to spending more and more time in my studio, and am in discussion about future exhibition opportunities. I'll be producing some new and fresh bodies of work so watch this space!
Words by Elliot Parker